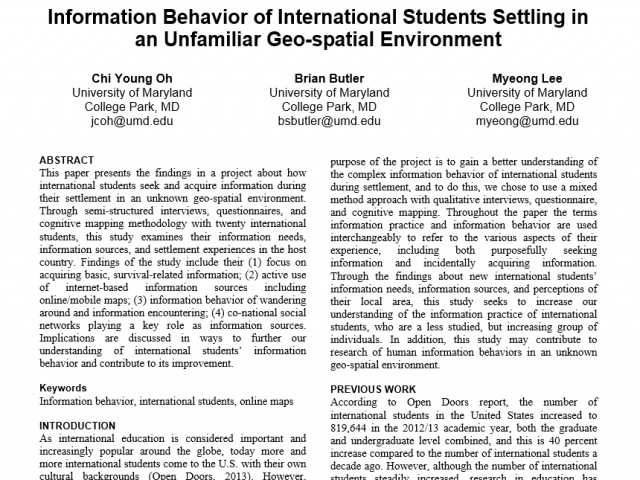 This paper presents the findings from a project about how international students seek and acquire information during their settlement in an unknown geo-spatial environment. Through semi-structured interviews, questionnaires, and cognitive mapping with twenty international students, this study examines their information needs, information sources, and settlement experiences in the host country. Findings of the study include their (1) focus on acquiring basic, survival-related information; (2) active use of internet-based information sources including online/mobile maps; (3) information behavior of wandering around and information encountering; (4) co-national social networks playing a key role as information sources. Implications are discussed in ways to further our understanding of international students' information behavior and promote its improvement.
* I participated in this research project as an assistant interviewer/co-coder for the interview data and wrote a part of the paper.
* Chiyoung Oh, the first author of this paper, received The Dean's Award for an Outstanding iSchool Doctoral Student Paper (UMD) in 2015. Congratulations!
Venue:
Proceedings of the Association for Information Science and Technology (ASIST '14). Oct 31-Nov 5. Seattle, U.S.
Citation:
Oh, C., Butler, B., & Lee, M. (2014). Information Behavior of International Students Settling in an Unfamiliar Geospatial Environment. In Proceedings of the Association for Information Science and Technology (ASIST). 51(1). pp. 1-11. https://doi.org/10.1002/meet.2014.14505101068