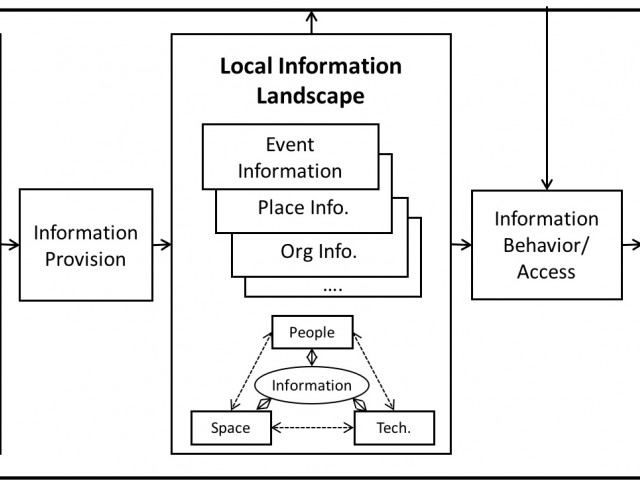 To understand issues about information accessibility within communities, research studies have examined human, social, and technical factors and contexts by taking a socio-technical view. While this view provides a profound understanding of how people seek, use, and access information, this approach tends to overlook the impact of the larger structures of information landscapes that shape people's access to information. When it comes to local community settings where local information is embedded in diverse material entities such as urban places and technical infrastructures, the effect of information landscapes should be taken into account in addition to particular strategies for solving information seeking issues. However, understanding the information landscape of a local community at the community level is a non-trivial problem due to diverse contexts and users and their interactions with each other. One way to minimize the effects of information, contexts, human factors, and their interplay is to focus on the materiality of information (Dourish, 2017). By distinguishing the material aspects of information, it becomes possible to understand how local information is provided to social entities and infrastructures and how it exists, forming a certain structure at the community level. Through an extensive literature review, this paper develops a theory of local information landscapes (LIL Theory) to better conceptualize the community-level impact of the material structure of local information. Specifically, the LIL theory adapts a concept of the virtual as an ontological view of the interplay between technical infrastructures, spaces, and people as a basis for assessing and explaining community-level structures of local information (De Souza e Silva & Sutko, 2011). By complementing existing theories such as information worlds (Jaeger & Burnett, 2010) and information grounds (Fisher & Naumer, 2006), this paper provides a new perspective on how information deserts manifest as a material pre-condition of information inequality. Based on these theoretical models, a research agenda is presented for future studies in local communities. 
Dean's Award for an Outstanding Doctoral Student Paper
Venue:
Journal of the Association for Information Science and Technology (JASIST), 70(2). 101-116.
Citation:
Lee, M. & Butler, B. S. (2019). How are Information Deserts Created? A Theory of Local Information Landscapes. Journal of the Association for Information Science and Technology (JASIST), 70(2), 101-119. https://doi.org/10.1002/asi.24114